Mexico's Lake Baccarac
Sizzlin' Bass South of the Border
By James O. Fraioli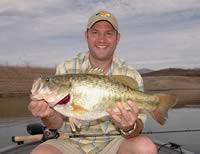 It is 6:30 am on a balmy Saturday morning and the rising sun is revealing the bottle green mountain lake. Long-time fishing guide, Sixto, kills the 60 horsepower outboard of the 18-foot Crestliner guide boat as his watchful eyes study a trusty blue heron on shore – a surefire sign baitfish and bass are nearby. Sixto stops momentarily and checks the depth – 18-feet. He drops the electronically controlled trolling motor into the temperate 74°F water and positions the boat just a few yards from where several donkeys are sipping at the water's edge. My fishing partner, Kevin, and I silently grab our weapons of choice: baitcasters loaded with beefy 20-pound monofilament on 6 ½ foot medium/heavy action rods. We scan the bubbling surface, keen with anticipation, as boils from foraging tilapia – a favorite food for these largemouths – erupt around us.
"Cast next to the tree," Sixto whispers in broken English. He points to the submerged timber, which is abundant throughout this remote lake. "We got a fifteen pounder right there!" My heart thumps as I make several casts, my blue tinted crankbait falling inches from the craggy bank before deep diving through the wooded structure.
"Slower…" Sixto hisses. I let up, retrieving the lure at a more enticing pace. My next cast lands a few feet from the sunken tree. As it begins to make its descent, my rod suddenly jerks as something on the other end slams the lure. Feeling the weight of the attack, I set the hook – hard – the tip of my rod bent over like the St. Louis Arch. I smile in delight as the blue heron, which has been watching us, lifts from its perch just a few feet from where we are and flaps away.
"Big fish," Sixto hollers from the stern, seeing a glimpse of the bucketmouth through his polarized lenses. He reaches for the net, his healthy frame silhouetted against the foothills of the Sierra Madres Mountains. The giant bass rises to the surface and makes a frantic jump to throw the hook, but to no avail. "Well done," my veteran guide commends, patting me on the back while his other hand clutches the net. "Now bring her in."
For more than two decades, Mexico has been a popular destination for American bass anglers. Unfortunately, many of the fabled Mexican bass fisheries no longer live up to their almost legendary reputations, their fisheries having declined as a result of unforeseen drought conditions and over-harvesting of the once-plentiful resource. In recent years, however, one lake has emerged that is restoring the mystique of Mexican bass fishing once again – Lake Baccarac.
Fed by the Sinaloa River, Lake Baccarac, approximately 90 miles due east of Los Mochis on the west coast of Mexico, is a 35,000 acre man-made reservoir and a Mecca for serious bass fishermen. With its shimmering waters and steep rock-clad banks, Baccarac is a meandering twenty five mile long, five mile wide lake that offers a wide variety of breathtaking vistas from rugged cactus-studded terrain to sweeping panoramics of the Sierra Madres. With hundreds of isolated islands, points and coves to keep any fisherman busy, bass fishing in Lake Baccarac seems right out of a dream where fishing conditions are flawless and landing big fish never ceases to amaze. Imagine an isolated lake, void of human interference and fishing pressure, where largemouth bass over 10 pounds are plentiful. Imagine landing over sixty 3- to 4-pound bass in a few hour period then begging your guide for a breather. Imagine landing a half dozen fish over double digits in just a three day window. These aren't tall bass tales. These are true facts we recently experienced on Lake Baccarac.
"My group of six fishermen just returned from Baccarac. We have been fishing Mexico for over 15 years and just completed the best trip ever, anywhere," says Gene Ditmore, an avid bass angler from Abilene, Texas who recently booked a trip with Lake Baccarac Lodge. Gene claims there aren't any U.S. lakes that come close to the size and number of fish pulled out of Baccarac on a regular basis.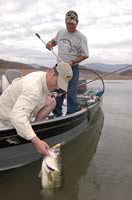 In 1978, Lake Baccarac was heavily stocked with Florida strain largemouth. The fingerlings came from Lake Dominguez, the first lake to be stocked in Mexico with Florida strain bass. And it didn't take long for these bass to thrive. Taking a liking to a protein-rich diet of tilapia and shad, which are prolific in Baccarac, the bass grew rapidly. Today, anglers average in excess of 75 bass a day and 10 pound plus trophies are caught with regularity. There's no question Lake Baccarac is considered both a numbers lake and a prospering fishery which is producing some real monsters.
Currently, the record for a largemouth in Lake Baccarac is 19.10 pounds, landed in January 1993. This record includes all of the Latin American countries including Cuba. In November of 1994, another angler came close with a giant bass weighing 19.6 lbs. Many anglers claim to have hooked and lost fish well over the 20 pound mark. Local netters, who harvest tilapia in Baccarac, say they have caught and released fish over 22 pounds. Over the years, literally thousands of big bass over ten pounds have been caught and released – a conservation method always promoted on this super trophy lake.
At 5:30am, after a hearty breakfast of eggs, toast, ham and papaya juice at Lake Baccarac Lodge, Kevin and I hit the water for another day of extraordinary fishing. Having already landed an 8, 9, 10 and 12-pound largemouth on our first day, we are excited to see what day two has in store. It doesn't take long for us to find out, thanks in part to our experienced guide. Sixto, who works out of Lake Baccarac Lodge, is an amazing Mexican bass fisherman whose personality shines day and night as he strives to make every angler's stay their best ever. The word "no" is not in his vocabulary. Neither are the words "small fish."
We learn from Sixto that the key to landing trophy bass in Baccarac, during this timeframe, is chucking deep diving crankbaits, like Bill Dance's Fat Free Shad, Norman DD22's, and Bass Pro Shop's XPS Lazer Eye Static Shad, all day long. While other anglers consider crankbaiting too much work and would rather do without the throbbing hands and wrists, we find the reward is well worth the effort. In the three days we fish crankbaits, we catch and release two 10-pound largemouth and four 12-pounders (not including the dozens of bass in the 3- through 8-pound category).
The crankbait technique is rudimentary: cast close to the bank or visible structure, reel fast to get the big wobbly bait to dive deep then retrieve using a slow steady motion. In Baccarac, crankbaits can literally produce results every cast, as we often experienced.
For those choosing to steer clear from the rigors of throwing crankbaits, the thrills of topwater fishing on Baccarac bode well in early morning and evening hours, while spinnerbaits, rattlebaits, large plastic lizards, worms and swimbaits are productive during the day.
If you are looking to book a trip to Lake Baccarac, make sure to plan ahead. Baccarac is open for fishing from September thru June. Early booking is the key to fishing this great reservoir, as accommodations are limited.
The recommended lodge is Lake Baccarac Lodge – considered to be the lodge by which all other lodges are judged in terms of comfort, cleanliness and quality of the cuisine.
Completed in 2005, Lake Baccarac Lodge, nestled on a high bluff overlooking the lake, is new and can accommodate 28 anglers in fine style. Lake Baccarac Lodge is blessed with superior amenities, as is their sister operation, Lake Huites Lodge, located not far away at beautiful Lake Huites.
At Lake Baccarac Lodge, an attentive cooking staff provides a delightful array of dishes for visiting anglers, including thick Omaha steaks, a fresh variety of local seafood and elaborate Mexican dinners accompanied by homemade chips and salsa and frosty cold margaritas. Each morning, anglers are awoken before dawn for coffee and breakfast before being shuttled 5 minutes to their boats. Around noon, fishermen are brought back to the lodge for a gourmet lunch, an optional siesta, then back out fishing. At dusk, anglers return to the lodge for drinks and dinner.
On the water, Lake Baccarac Lodge has an impressive fleet of 15 boats all loaded with the essential tools for a productive day: depth finders, trolling motors, a landing net, and an ice chest filled with chilled beer, bottled water and soft drinks. With a local pool of experienced guides, including lodge manager Rene Salazar, who broke away to take us fishing one afternoon, all the guides know the secret holes of Baccarac, and serious anglers can expect hundreds of bass during their stay along with their trophy double-digit fish.
No matter what time of the season you decide to fish, Lake Baccarac will be an enjoyable and productive trip that will remain in your memory for a long, long time.
TRIP CHECK REPORT
LOCATION:
Lake Baccarac is located approximately 90 miles due east of Los Mochis, Mexico, situated on the west coast of Mexico, at the foothills of the Sierra Madre Mountains.
HOW TO GET THERE:
Fly into Los Mochis or Culiacan, Mexico and then take a two-and-a-half hour van ride to the lake. If staying at the Lake Baccarac Lodge, a courtesy van will greet you at the airport and transport you to the waterfront lodge. You may also access Lake Baccarac by private plane or arranged private charter that flies out of Phoenix, AZ or El Paso, TX, and land 10 minutes from the lodge. A Passport will be required in 2007 for Mexico travel.
WHEN TO GO:
Lake Baccarac is open for fishing from September thru June. Early booking is the key to fishing this great reservoir, as accommodations are limited.
LURES TO PACK:
For early morning and evening hours: Bass Pro Shop's Lazer Eye Extreme Z-Pops, chuggers, Super Spooks, and prop-baits. Late morning: Chartreuse/white double-willow spinnerbaits and buzzbaits. Pearl/white, blue/chartreuse deep-diving crankbaits such as Bill Dance's Fat Free Shad and Bass Pro Shop's XPS Lazer Eye Static Shad are productive all day, as well as large chrome/blue Rat-L-Traps, Rattle Shads and large plastic lizards, and Storm swimbaits bounced along the bottom.
NECESSARY ACCESSORIES:
Sun and insect repellent. Load reels with no less than 20-pound monofilament or 30-pound braided line. Medium/Heavy rods are a must (6 ½ or 7 feet). Don't forget extra spools of line and extra treble hooks for the hardbaits.
LICENSE INFORMATION:
A valid Mexican fishing license is required, which is included in the trip package price.
ACCOMMODATIONS:
Lake Baccarac Lodge: (806) 359-6288, toll free (888) 744-8867; www.lakebaccaraclodge.com
NEARBY ATTRACTIONS:
Lake Baccarac is first and foremost a fishing lake. Because it is so remote, activities or attractions that would appeal to the non-angler are extremely limited.
FISHING GUIDES:
Contact Lake Baccarac Lodge for package options and pricing.